Navigate Deep Space with PSP 8
Week 4
---
Trying Scripts
The lesson script
recorded and run
Same script run interactively.
Gap 5; width 25;
Opacity 75; weave color 800080
Color changed in
the Script Editor
Managed to change the fill to a gradient.
I opened a script, from Conal, that used gradient fill,
and copied the code. (In the Script Editor)
Changed the gradient name
and set color fill to None. Voila'!!
---
Trying out Jasc Scripts
The original picture
Dot Method
Full Image Drop Shadow
Mosaic
Simple Caption
Sloppy Edges
Water Color
---
---
Create a script
Open a new image, add a raster layer, apply a tube of your choice to this layer.
Run the script.
The script will duplicate the layer (with the tube), and apply following effects
to the original tube layer: Motion blur and glass mosaic.
Then the copy of the tube layer will be resized to 85%. -- End of script. At this point you can add a name to make a sig.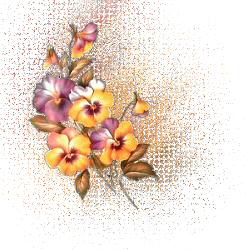 Download my script. Should be safe to put in Trusted folder.
---