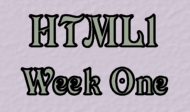 ---
Gunilla's Virtual Notebook
Class Notes for HTML1
This will be my Virtual Notebook for "Web Page Design For Beginners"
I do not have any particular plans right now on making web pages. I am taking this class to brush up on the HTML.
I have a web site already, that was first uploaded spring 1997.
The center tag is used here and in the Headers above.
---